News
| | |
| --- | --- |
| | Successfully certified according to the specifications of DIN ISO 9001: 2015 |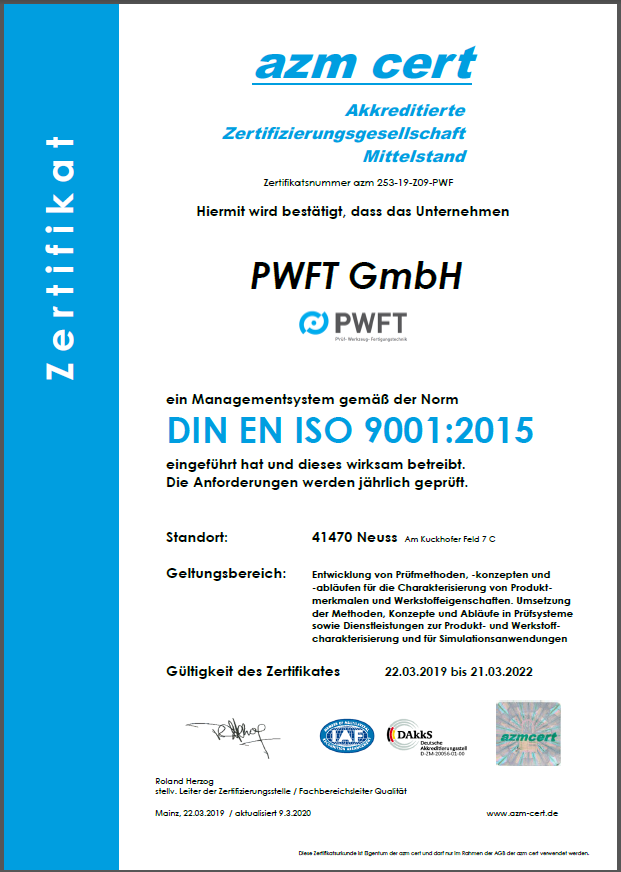 AZM Cert Zertifikat DIN ISO 9001:2015
On January 31, 2019 the management system of PWFT GmbH was successfully certified for the first time, according to the specifications of DIN ISO 9001: 2015. With the implementation of a quality management system the company moved a step further into the direction of standardized processes to deliver quality with continuity and sustainability.
The managing directors Benedikt Thimm and Marius Nahler are very happy due to the fact, that the effectiveness of the developed processes was confirmed. "Especially against the background of the company's business activities in the field of testing technologies sustainable and steady processes are essential for confidence and quality" emphasize both managing directors.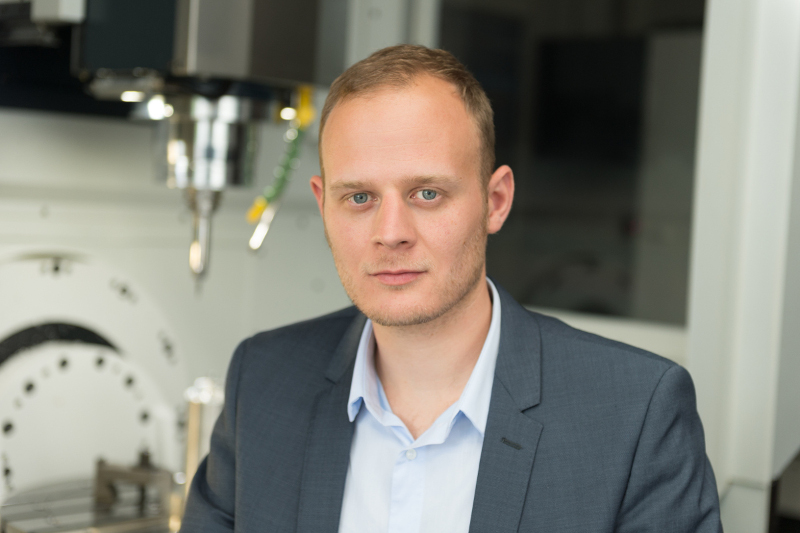 Benedikt Thimm, Managing Director PWFT GmbH
Since July 01, 2018 Mr. Dr.-Ing. Benedikt Thimm complements the team of the PWFT GmbH. As additional managing director, Mr. Thimm will especially focus his work on material modeling and material data determination for Finite Element Analysis (FEA) of production processes.
Finite Element Analysis has become an established planning and analysis tool for industrial users to achieve efficient development processes and a sustainable production. Often high-quality material data, which is needed as a mandatory input requirement, is missing. The PWFT GmbH starts here as an innovative service provider and offers application-oriented measurements and consulting services to close this gap. Beside the experimental data determination for instance of flow curves, the company offers upon request the complete modelling from a single source. A special focus lies on the inverse method for material data determination based on DIC measurements, which was developed at Institut für Werkzeug- und Fertigungstechnik at RFH Köln.
| | |
| --- | --- |
| | PWFT awards a test mark for razor blades |
For the first time, PWFT is awarding a test mark for a product that it regularly tests in a suitable random sample size. This involves the multi-blade razor system from the ISANA product family, which is sold by the ROSSMANN drugstore chain.
PWFT awards a test mark when the test method records the tested characteristics in a suitable manner and with verifiable reproducibility and the random sample tests do not exhibit any unsuitable deviations from the stipulated specifications of the tested characteristics. That also includes testing with the aid of technically recognized, carefully applied, reliable and reproducible methods.
Furthermore, our test mark award requires that the knowledge gained in the frame of the quality controls is included in the process of continuous improvement of the products and that it contributes to the qualitative improvement of the products. For the award of our test marks, the demands apply to the objectivity, validity and reliability of the test methods being used and the executed inspection and test procedure:
The test findings are independent of the scientist or the tester himself

The test findings precisely verify that which it claims to verify

The test findings are reliable and can be obtained again at any time under the same conditions.